What is OKP4?
OKP4 — Open knowleadge protocol for — is a domain-specific layer-1 dedicated to trust-minimized data sharing. The blockchain orchestrates assets shared by participants into the Dataverse: data, algorithms, software, storage and computation to enable a new generation of applications. Any contributor earns rewards thanks to these new value chains.
Okay, but what does it mean?
To answer this question, we need to understand, how OKP4 stores data. It doesn't. It only references the data where it is and make it available to the network according to the permissions granted by the data provider. The data can be stored anywhere, with any kind of storage solution, either centralized or decentralized.
Why can use OKP4?
Anyone connected to Big Data. Analytics systems, gaming and metaverses, email systems and even agriculture. The agriculture supply chain relies on several interdependent actors, from the field to the fork. They need efficient information systems to better evaluate, manage and value the efforts made and the agri-environmental benefits associated to the practices. Moreover, they need to share data to create knowledge valuable at each link of the chain. But knowledge created from these data can go way beyond traceability of practices. It can provide valuable insights for companies, public authorities or even new opportunities to develop new applications on top of the shared data. For exemple to feed agro-ecological machine learning models or business intelligence tools. Moreover, data sharing between these actors is able to lead to new indicators and thus a greater knowledge of what is produced on a farm and how.
What is Dataspaces and Dataverse?
A Data Space is a digital common that makes data and services (algorithms, computing resources, etc.) available to the community, based on shared governance, for the creation of knowledge. The governance guarantees the individual and collective interests of the participants, who retain the sovereignty of their resources. Trust is brought by the decentralized infrastructure which orchestrates the interactions between different resources.
Anyone can create and design a Data Space with as much freedom as possible. OKP4 provides templates and no-code tools to set the governance rules. OKP4 SDK is designed to give as much freedom as possible for developers, data scientists and communities at large. Freedom of development, freedom of business models, freedoms of standards… freedom of innovation.
Tokenomics
Total initial supply: 200,000,000 $KNOW
200M $KNOW are minted at launch and subject to cliff and vesting terms, detailed below.
The distribution, cliff and vesting terms are the following: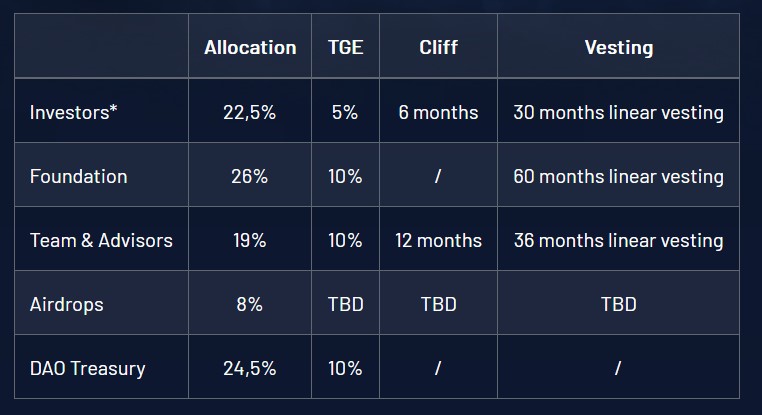 How can I participate at OKP4?
Unfortunately there is no option to participate at project any more. 150 druids out of 6700 applications has been selected. But according to the team at stage 5 everyone will be able to join!
Phase 5 — Builders Phase
The last phase will open a new chapter for the Nemeton testnet. It will open its gates for builders to join the community of Druids, expanding our community way beyond validators!